As one of the most popular cities in Germany, Munich has a lot to offer travelers. Whether you come for a seasonal event, like the Oktoberfest or the Christmas market, or for the year-round attractions like the numerous museums and gardens, a trip to Munich is sure to be an event which will provide nice memories for years to come.
Basic Facts
Basic Facts
Population: 1.3 million
Languages: German, although many locals speak English as a second language.
Climate: Generally mild, however, winters can be very cold and snowy, while the summer normally has a number of periodic days which are very hot. These heat waves normally don't last longer than a few days before being cooled down by rain. Fall and spring have the most moderate temperatures. Sunny autumn days are often referred to as a Goldener Herbst (golden autumn).
Currency: Euro
Airports: Franz-Josef Strauss International Airport in Erding, which is about a 45 minute train ride from downtown. A private airport is located in Oberpfaffenhofen, which is a suburb to the south of Munich.
Getting around in Munich: Munich has an extensive and reliable public transportation system, consisting of the U-Bahn (subway), S-Bahn (suburban trains), buses, and trams. There are also many taxi stands scattered throughout the city, and next to all of the major train and subway stations.
If you arrive in Munich by air, the airport is served by two S-Bahn lines, both of which lead downtown and stop at the major U- and S-Bahn stations Marienplatz, Königsplatz, Hauptbahnhof, and Isartor, which are considered part of the Stammstrecke (main stretch) going through downtown Munich. The trains leave the airport about once every 10 minutes and the trip takes about 40 to 45 minutes.
Up-to-date information on tickets, fares, and timetables for Munich's public transit system is available here.
Rail: München Hauptbahnhof (Munich Central Station) is the main rail station in the city, and Ostbahnhof (East Station) is also a major rail station. Local and long-distance rail connections to just about anywhere is Europe are possible from these stations.
Amongst the trains from Munich are a daily TGV train to Paris which takes about six hours and an Austrian high-speed train to Vienna that gets there in four hours. The Deutsche Bahn (German Railways) recently opened a high-speed ICE stretch that makes it possible to travel from Munich to Berlin in four hours.

Flights to Munich: Munich is served by most of the major airlines in Europe, North America, and Asia.
Things to Do
Museums
Deutsches Museum: This museum is devoted to science and technology. It contains exhibits on subjects ranging from astronomy and oceanography to transportation and kids' exhibits.

Museuminsel 1, 80538 Munich
S-Bahn station: Isartor
Website: http://www.deutsches-museum.de/index.php?id=1&L=1 
Bavarian National Museum: One of this art museum's most popular attractions is its collection of nativity scenes. There's also a collection of medieval suits of armor which is worth a visit. The art is mostly traditional Bavarian, with a lot of religious themes. The Englischer Garten is right behind this museum.

Prinzregentenstrasse 3, 80538 München
S-Bahn station: Isartor
Website: http://www.bayerisches-nationalmuseum.de/Engl/b.htm (in German)
Alte Pinakothek: An art museum which contains works from the 14th to the 18th centuries. A large number of great artists have works displayed here, including Leonardo da Vinci, Raphael, van Dyck, and Albrect Dürer. There are other Pinakothek museums nearby. The Neue Pinakothek has a large collection of art from the 19th century, and the Pinakothek der Moderne has exhibits modern art. 

Barer Strasse 27 (Entry on Theresienstrasse), 80333 Munich
U-Bahn station: Königsplatz
Tram stop: Pinakotheken
Website (for all Pinakothek museums): https://www.pinakothek.de/en
Glyptothek: Collections of ancient Greek and Roman art dating from 700 BC to 550 AD.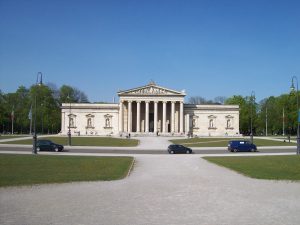 Katharina-von-Bora-Strasse 10, 80333 Munich
U-Bahn station: Königsplatz
Website: http://www.antike-am-koenigsplatz.mwn.de/en.html


Städtische Galerie im Lenbachhaus (City Gallery in the Lenbach Villa): This art museum was built by the painter Franz von Lenbach in the late 19th century and displays nearly 30,000 works dating from that time to the mid-20th century. It's located a stone's throw from the Glyptothek.
U-Bahn station: Königsplatz

Münchner Residenz: The Residenz used to be a palace for the Bavarian royal family.


It has 130 rooms which are mostly decorated in a Baroque or Rococo style, along with 10 courtyards. Some of the main features include the 18th-century multi-tiered Cuvillies-Theater, a throne room, and treasury containing royal artifacts dating from the Middle Ages to the 19th century.
Residenzstrasse
U-Bahn station: Odeonsplatz
Website: http://www.residenz-muenchen.de//englisch/residenc/index.htm
Schloss Nymphenburg (Nymphenburg Palace): Nymphenburg Palace was once the summer home of the Bavarian royal family. The Baroque-era palace is surrounded by extensive formal gardens. The neighbouring Marstall Museum is located in the former stables and features a collection of carriages and sleighs. The Museum Mensch und Natur (Museum of Mankind and Nature) is also located on the grounds of Nymphenburg Palace, containing exhibits on the origins of the solar system, the earth, and life.
Schloss Nymphenburg, 80638 Munich
Tram stop: Schloss Nymphenburg (Buses also stop here.)
Website: http://www.schloss-nymphenburg.de/englisch/tourist/index.htm
BMW Welt: Munich is the world headquarters of BMW, and the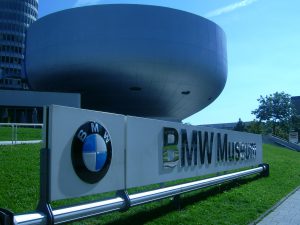 surrounding area offers a number of tourist attractions. The BMW museum chronicles the history of automobiles, while the BMW Welt across the road showcases today's BMWs. BMW Welt is located right next to the Olympiapark and its attractions.
Am Olympiapark 1, 80809 Munich
U-Bahn station: Olympiazentrum or Petuelring
Website: http://www.bmw-welt.com/en/index.html 
Museum Fünf Kontinente (Five Continents Museum. Formerly known as the State Museum of Ethnology): Although this museum isn't as widely known as some of the other museums in Munich, it's still worth a visit. It's devoted to exhibits about cultures from outside of Europe, containing artifacts from the religious and cultural histories of pre-Columbian America, Africa, Asia, the Middle East, and Oceania.

Maximilianstr. 42, 80538 Munich
S-Bahn station: Isartor
Website: http://www.museum-fuenf-kontinente.de/services/english-summary.html
Spielzeugmuseum (Toy Museum): Brass chimes greet you as you walk past the Spielzeugmuseum, which contains the history of toys going back to the year 1800. This quaint museum is located in a tower next to City Hall and consists of four stories of stuffed animals, model railroads, dolls, and toys made of tin.
Marienplatz 15, 80331 Munich
S- and U-Bahn station: Marienplatz
Website: http://www.muenchen.de/sehenswuerdigkeiten/orte/119188.html (in German)
Parks and Gardens


Olympiapark: Located right next door to BMW Welt, the Olympiapark is where the summer olympics were held in 1972. It has a lot of walking paths, some of which lead up steep hills which offer a panoramic view of the park or the city. If you don't feel like walking up a hill, the panoramic views which can include the Alps can be seen from the Olympiaturm. The Sea Life aquarium is also at the Olympiapark. Concerts and sporting events are often held here.


U-Bahn station: Olympiazentrum
Website: http://www.olympiapark.de/en/olympiapark-munich/
Botanischer Garten: The Munich Botanic Garden is next door to Nymphenburg Palace. Plants from climates around the world are featured in greenhouses which emulate their natural habitats. The orchid collection is so large that it has a special greenhouse of its own, while the other greenhouses are devoted to the tropics and the desert. You might encouter lizards and turtles amongst the plants as well. The large outdoor gardens are also worth exploring, with paths leading through seasonal plants like roses and rhododendrons, along with the arboretum exhibiting trees and shrubs from around the world.

Menzingerstrasse 65, 80638 Munich
Tram stop: Botanischer Garten
Hofgarten: Located right next to the Residenz Palace, the Hofgarten is a Baroque-era formal garden arranged around a pavilion. If you walk across this garden starting from Odeonsplatz (also the name of the nearest U-Bahn station), and then turn left and go down the stairs and under the bridge, it leads to the Englischer Garten.

Englischer Garten: The largest park in Munich is a piece of the countryside in the middle of the city. The gravel and sand walking paths lead past brooks and lakes, fields, and under the shade of mature trees. There are often a couple of swans wading nearby, and there are always geese hanging around. Some of the highlights are the Monopterous pavilion, which is up on a hill offering views of the city. There's also the Chinese Tower, which is somtimes surrounded by a biergarten or a Christmas market. Another biergarten is on the shores of a large lake.

Zoos


Tierpark Hellabrun: Munich's main zoo was the first zoo in the world to organize their animals based on what part of the world they come from. Some of the animals are displayed so that you're only separated from them by a small canal which is just wide enough to prevent them from crossing. There's also a petting zoo where you'll be greeted by sheep and goats.
Tierparkstrasse 30, 81543 Munich
U-Bahn station: Thalkirchen (Tierpark) A parade of animals on the walls leads to the zoo.
Churches
Frauenkirche: The 15th-century Frauenkirche is one of Munich's most recognizable symbols and its main cathedral. It's the church with two towers with round ornaments on top which is visible from Marienplatz and most other parts of the pedestrian zone.
Frauenplatz 1, 80331 Munich
Asamkirche: Although the 18th-century Asamkirche is a lot smaller than most churches, its elaborate late-Baroque décor makes it worth a visit.

Sendlinger Strasse 32, 80331 Munich
Shopping
The main shopping area in Munich is the Neuhäuserstrasse leading into the Käufingerstrasse, or the pedestrian zone which leads from the Karlsplatz S- and U-Bahn station to Marienplatz. This area contains numerous large department stores, perfume and cosmetics stores, clothing stores, a large electronics store, and bookstores. Munich's pedestrian zone is one of the most frequently-visited shopping areas in Europe. Some of the highlights along the pedestrian zone are:

Oberpollinger: This large department store next to Karlsplatz houses a number of luxury boutiques on the ground floor, including Dior, Burberry, Fendi, Prada, and Louis Vuitton. Oberpollinger's other offerings are a large fashion assortment, perfumes and cosmetics, home furnishings, and toys. Oberpollinger also has a cafe on the 2nd floor (3rd floor if you count the ground floor as the 1st), and a restaurant on the top floor with a roof terrace offering views over Munich.
Hugendubel: If you're looking for a German book as a souvenir, this major bookstore chain has outlets on Karlsplatz, Marienplatz, and in the Fünf Hofe shopping center. There's a wide assortment of books to learn German as a foreign language, a lot of magazines and children's books, and also a limited selection of books in English.


Maxilimilianstrasse: One of Munich's prime shopping streets, the Maximilianstrasse contains Chanel, Dior, and Gucci amongst its boutiques and the five star Hotel Vier Jahreszeiten Kempinski.


Olympia-Einkaufszentrum (Olympia Shopping Mall): One of the largest malls in Bavaria, the Olympia-Einkaufszentrum has over 130 shops.
Riesstrasse 59, 80993 Munich
U-Bahn station: Olympia-Einkaufszentrum (Served by both the U1 and U3 lines.)

The shops in Munich have varying opening hours. Some open as early as 7:00 or as late as 9:30 am from Monday to Saturday. Almost all of them close at 8:00 pm. More information on this subject is in the section on public holidays below.
Where to Eat
Viktualienmarkt: The Viktualienmarkt is located just off of Marienplatz, and has an assortment of food stands and small gourmet shops and produce stands. The food stands offer a chance to try traditional German foods like a Schnitzelsemmel (a breaded pork chop on a crusty roll), or a Leberkässemmel (a crusty roll filled with a hearty pork lunch meat.) There's also a Biergarten where you can enjoy your drink in the shade of chestnut trees.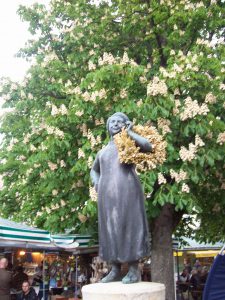 S- and U-Bahn station: Marienplatz. Look for where the tower with the toy museum is at the end of the pedestrian zone, and the Viktualienmarkt is just around the corner.
Website: http://www.muenchen.de/int/en/sights/attractions/viktualienmarkt.html
Department Stores: Some department stores in Munich have a restaurant on the top floor, including the Karstadt location next to the main train station (Hauptbahnhof), and the Galleria Kaufhof locations at Karlsplatz and Marienplatz. These restaurants are a good place to go if you're looking for a full meal or just coffee and a piece of European pastry.
Where to Stay
Many people who are considering which part of Munich to stay in are also wondering which areas they should stay out of. I've lived in Munich for 13 years, and can tell you that there's nowhere in the city that can truly be called dangerous. The main central area of the city is around Marienplatz, which is within walking distance of most of the tourist attractions, and is also easily accessible by public transportation to just about anywhere in Munich where you might want to go.
Luxury Hotels
Luxury Hotels in Munich: A list of Munich's five star hotels.
Mid-Range Hotels
Arthotel Ana im Olympiapark: A comfortable hotel in Olympic Village, which is a complex of shops and apartment buildings right next to the Olympiapark and BMW Welt. The Olympiazentrum U-Bahn station is also nearby. The trains run every five minutes during the morning and evening rush hours and every ten minutes at other times, and the ride into downtown Munich takes around 15 minutes.
Hotel Torbräu: The location of this 4-star hotel is hard to beat. It's right next to the Isartor S-Bahn station and about a 5-minute walk from Marienplatz and Viktualienmarkt.
Tal 41, 80331 Munich
Platzl Hotel: Although it's tucked away on a quiet side street, the 4-star Platzl Hotel has excellent reviews and is just around the corner from the Hofbräuhaus, Marienplatz, and the Viktualienmarkt. The rooms are soundproofed in case it gets a bit rowdy at the Hofbräuhaus.
Sparkassenstrasse 10, 80331 Munich
Hilton Munich City: This Hilton location is a short walk from the Deutsches Museum and right next to the Rosenheimer Platz S-Bahn station, which is directly on both S-Bahn lines which go to the airport. Marienplatz is only two S-bahn stops away. There's also a shopping center at Rosenheimer Platz, which contains a drug store and two grocery stores. The Gasteig Cultural Centre is also right next door.
Rosenheimer Strasse 15, 81667 Munich
Holiday Inn Munich City Centre: This Holiday Inn is right across the street from Hilton mentioned above.
Hochstrasse 3, 81669 Munich
Four Points Sheraton Munich Central: This Four Points location is located right around the corner from the Theresienwiese where the Oktoberfest is held.
Schwantaler Strasse 111, 80339 Munich
Leonardo Hotel Munich City Olympiapark: The 4-star Leonardo Hotel is located a five-minute walk from the Olympiapark.
Dachauer Strasse 169, 80637 Munich
Related:
The closest hotels to Munich Airport
Side Trips from Munich
Mittenwald: A picturesque Bavarian village on the Austrian border.
Public Holidays
Public holidays in Germany often vary based on your location in Germany. Some holidays are only observed in places in which the population is either majority Catholic or Protestant. There's even a holiday that's only observed in one city: August 8 is Peace Day in Augsburg. The only stores which are allowed to be open on German public holidays are those located in transport areas like large train stations and airports. Restaurants are generally open. These are the public holidays which will be observed in Munich in 2018.
 January 1: New Year's Day
January 6: Epiphany
February 13: Mardi Gras (Stores may be closed, or only be open until the early to mid -afternoon.)
March 30: Good Friday
April 2: Easter Monday
May 1: Labor Day
May 10: Ascension of Christ
May 21: Pentecost Monday
May 31: Corpus Christi
August 15: Assumption of Mary
October 3: German Unity Day
November 1: All Saints' Day
December 24: Christmas Eve (This is a half-day holiday, and most of the stores will close around 1 or 2 pm.)
December 25 and 26: Christmas
December 31: New Year's Eve (This is a half-day holiday, and most of the stores will close around 1 or 2 pm.)